//
//
HAIP06 is proud to present: Rama Costentino and Platoniq (Spain), Time's Up (Austria), FunkFeuer (Austria), Monochrom (Austria), Metafor (Swiss), Salsaman (United Kingdom), Rodrigo Derteano (Peru), Kentaro Fukuchi (Japan), Frank Barknecht (Germany), Daniel Fischer (Germany), Shaina Anand (India), Ashok Sukumaran (India), Bob Miloševič (Serbia), Stefan Doepner (Germany/Slovenia), Borut Savski, Luka Prinčič, Slavko Glamočanin, Boštjan Špetič, Mould, Err0r (all Slovenia) and more.
//
//
Project: Free Net LJ
Artist: FunkFeuer (Austria)
FunkFeuer is a free, experimental network in Vienna and meanwhile also in parts of Weinviertel (NÖ) and some nodes in Graz. It was built and is maintained by computer enthusiasts. This project is non-commercial. FunkFeuer is open for everybody interested and willing to contribute. One of the goals is to build an unregulated network which has the potential to bridge the digital valley between the social layers and deliver the infrastructure and the knowledge for it. During the HAIP Festival FunkFeuer will build an experimental network in Ljubljana. They are a small team and need all the support they can get. Everybody is invited to join the implementation by sharing the available knowledge, ideas, roofs, balconies or equipment, to assure as wide coverage as possible. The workshop welcomes all potential free wireless internet users! Apply now at haip@kiberpipa.org.
More info: http://www.funkfeuer.at
//
//
Project: Roboexotica
Artist: Monochrom (Austria)
Until recently, no attempts were made to publicaly discuss the role of cocktail robotics as an index for the integration of
technological innovations into the human Lebensraum, or to document the increasing occurrence of radical hedonism in man-machine communication. Roboexotica is an attempt to fill this vacuum. A micro mechanical change of paradigm in the age of borderless capital. Mr. Turing would without a doubt test this out. Public Fiction – Robots for (almost) everyone! Public fictions refers to two different ways of collaboratively generating technical artifacts and cultural conventions: On the one hand it refers to the fact that society and technology are partly structured by fictions generated by the two of them together. Robots represent a fantasy about post -humanism as well as our hopes for a better society through delegation of work. Secondly robotics develops independent from the modern parameters of usefulness, thus according to the paradigm that complex processes cannot be simulated through linear logic, a new approach has developed during the last few years.
More info: http://roboexotica.org
Project: CelloBot
Artist: Stefan Doepner (Avstrija)
CelloBot is a pneumatic driven violin cello that is able to play pre-composed music as well as being played upon. The activities of the cello are controlled by MIDI notes through the f18controller board.
It was developed in 2005 and had its first stagings at the slovene Gazzela Awards where it was playing in six Slovenian cities. Since then we were improving its abilities by adding two more fingers and a better neck-holder. The latest performance of the CelloRob was at the GAK Bremen during the Museum Night in May 2006.
More: http://www.f18institute.org
//
//
Project: Robot Totem
Artist: Stefan Doepner (Avstrija)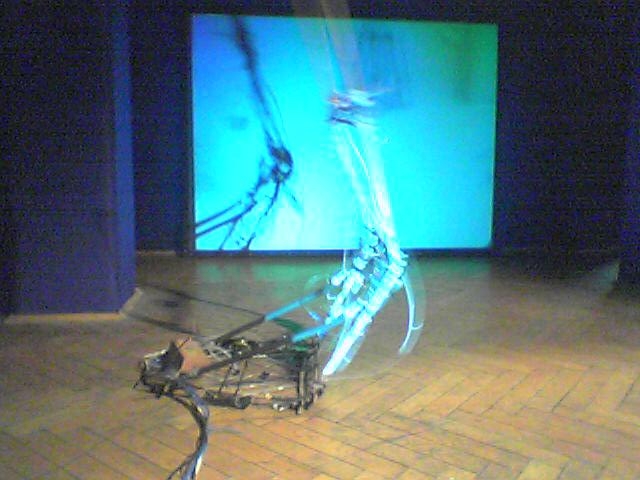 Robot Totem is a very simple construction, based on four square parts out of bamboo with three joints, driven by pneumatic muscles which are controlled and edited by an f18-ctrl board. The body is also equipped with a cam which is mounted on the upper part and shows the view of the robot. The sculpture can pull itself up and fall down again at different grade and speed, it represents the will of growing and self-representation.
More: http://www.f18institute.org
//
//
Performance: LED Throwies
Idea: Graffiti Research Lab
Implementation: Cyberpipe
LED Throwies are an inexpensive way to add color to any ferromagnetic surface in your neighborhood. A Throwie consists of a lithium battery, a 10mm diffused LED and a rare-earth magnet taped together. Throw them high and in quantity to impress your friends and city officials.
Instructions on how to put them together can be found at Instructables, and a great video of a LED Throwie gathering in action can be found at the G.R.L site, guaranteed to make you want to go and throw some throwies.
Info: http://graffitiresearchlab.com
//
//
Project: Short-Circuited Tele-Vision or Hack Act Interact Progress
(Live networked video from existing surveillance cameras)
Artist: Shaina Anand (India)

Multiple surveillance videos form a hidden architecture of our cities. If we are increasingly being denied any form of privac
y in public space, let's make the surveillance public. Let's make media in our city from these collaborative acts. Let's use this canvas, this frame of this alternative architecture that threatens with its purported deterrence, voyeurism and control to create new on-site(s) media: ambient and sudden conversations, performance, public acts of disobedience, absurd responses, music, poetry, propaganda, debates, conferences.
To 'hack' into views from existing surveillance cameras that are in use in public/private spaces. The video signal from these cameras will be fed into a quad processor to create a new frame comprising of the views that the cameras see. Mics are hung in the mainframe of each view, very visibly to give a sense of a stage/set or performance setting. At each site is a TV, which provides live feedback of the audio and video from the quad.
More info:www.chitrakarkhana.net
//
//
Workshop & Exhibition: BURN STATION
Concept: Rama, Platoniq (Spain)
Conduct: Err0r
BURN STATION
is a mobile copying station which – as it travels through suburban spaces – supports the free distribution music and audio. It is a software package as well as a local network. But above all BURN STATION is a social event which draws people together so they can listen, select and copy net label and net radio audio files with a Copyleft Licence. BURN STATION is an open source and non-commercial project involving the new means of free networked distribution. It is based on the BURN STATION software which was developed by Platoniq and Rama as a 100% Free software. BURN STATION aims to establish links between the media space and the physical space of the city.
BURN STATION is an open source, copyleft model project, an experiment in practical gift economics aiming to reflect on the understandings, sensibilities and entry of Open Source ideas into other social, cultural, and artistic practices. The starting point is the development of a system of distribution as a mobile self-service. It is designed as a local database for audio that automatizes the process of selection, listening and recording of files. The system is managed by free software which has been programmed for the project and is published and distributed under the GNU GPL Licence.
More: www.platoniq.net/burnstation/indexnew.html
//
//
Project: "recomputing space"
Artist: Rodrigo Derteano (Peru)
recomputing space is a psychogeographic study of urban sound in a soundscape installation. It generates an alternative perspective
of urban sound by developing a particular format to transfer it from the site of the recording to a soundscape-installation. Following the commands and rhythm imposed by an algorithm, two persons walk with microphones around chosen locations in the city, recording a mix of noise, language, music and the sound of their own steps. The chosen locations are usually public places, such as public squares, parks, tram stations etc. The algorithm they follow is composed of a number of simple commands (left, right, forward, back, stop) and a metronome, telling the microphonists exactly how to walk and also providing the walking rhythm. Both recorded soundtracks are later played back at the soundscape-installation, which consists of a 30 loudspeaker matrix. The sounds "move" from loudspeaker to loudspeaker, reconstructing the paths of the microphonists. The process generates interesting acoustic results, fading between noise, language and music in a systematic way. The different sound-strata of urban locations emerge and lead to new relations by the simultaneous playback of the two recorded soundtracks.
More: rd.org.pe
//
//
Project: Locative media
Artist: Ashok Sukumaran (India)
Ashok Sukumaran will demonstrate the peculiar concept of shooting at things to make them 'work'. Among other recent work exploring fundamental elements of human/system interaction, Ashok has been working on a 'scope' which has the ability to send data signals over a large distance through light modulation. The scope is a modification of an open source laser tag system, used in military training and by hobbyists to 'play' war. Several modes of this kind of optical signaling will be developed over the week. Ashok will give a talk on how this and other forms of 'interactivity' in his work are an inversion of several tendencies within interactive art. Also to consider whether the pointed weapon or the RFID cloud is the ultimate 'locative media'.
//
//
Workshop: Faltig
Modelling physical particle systems using Pd's data structures
Artist: Frank Barknecht (Germany)

Project "Faltig" is developed using Pure Data and consists of
sound and visuals, both of which are produced simultaneously by evaluating an underlying physical model which in itself is invisible and inaudible. While performing, just the model is influenced directly, while the visual and auditory aspects mainly provide feedback to guide the performer's improvisations.
We hope that in this setup the model creates an intimate link between sound and video, so that both become more than the sum of their parts. Parts of this software that are considered to be of general use are published under a free license for others to study and use.
Web: www.footils.org, www.goto10.org
//
//
Performance & Presentation: LiVES
Artist: Salsaman (United Kingdom)

LiVES began in 2002 as the Linux Video Editing System, a Free, Open Source video editor and a VJ tool. It is designed to be simple to use, yet powerful, since it is small in size, yet it has many advanced features. LiVES lets you start editing and making video right away, without having to worry about formats, frame sizes, or framerates. LiVES will let you start creating your own tools, utilities and effects via the built in RFX builder. LiVES is aimed at the digital video artist who wants to create their own content, the video editor who wants to produce professional looking video, and the VJ who wants to captivate with spectacular images. It was developed by Gabriel Finch (Salsaman), a video artist, international VJ, main developer of LiVES and one of the authors of Livido.
More: http://lives.sourceforge.net
//
//
Workshop: AA (Amplification & Automation)
Authors: Borut Savski (Slovenia), Stefan Doepner (Germany/Slovenia)
Date: 18th, 19th of October, from 4. to 7. pm
Their workshop will show us their different approaches, experiences and solutions for the creation of non-living, para-living organisms.
This organisms can move, make sounds, change colors, light,… and there is always a point where the decision is made (decision point). The authors are interested in the minimum of autonomy and the necessary steps to achieve it. This is the moment where you can almost feel poetry (Greek: poiesis: creation, from: poiein: to make, to create, to do) – a mirror of life itself. The world of mechanical objects should never be separated from the mental structures. The participants at the workshop are invited to contribute to the expansion of this non-exclusively technological field. The workshop will be thematically somewhere between a presentation/lecture and communication/creation. Unfortunately we cannot build much in a short period of time, but we can achieve a lot with our own creations and ideas. All the participants at the workshop are invited to show their works which deal with the research of autonomous (Greek: Auto-Nomos: who makes his own rules (for moving, making sound, light); Nomos: rule, law) structures (objects). For participation at the workshop sign in at haip@kiberpipa.org
The workshop will be in English.
//
//
Performance & Presentation: EffecTV
Artist: Kentaro Fukuchi (Japan)
EffecTV is a real-time video effector that enables watching TV or video through amazing effectors. For example, SloFastTV plays back the current video input at non-constant speed: while the buffer fills the video is played back at half the frame rate, when the buffer is full it plays back at the double rate until it has caught up with the live video again. This causes the actual image to be delayed from 0 to about half a second. Movements that previously had a constant speed will appear very slow and then very fast.
Info: http://megaui.net/fukuchi/index.en.html
//
//
Presentation: Getting rid of Flash by using it
Artist: Daniel P. Fischer (Germany)

xinf ("xinf is not flash") is a cross-runtime environment that will allow you to write graphical interfaces for three different runtimes: Adobe Flash Player, Firefox JavaScript and the Linux/OSX/Windows-based "neko" virtual machine using OpenGL and GStreamer. It will extend Nicolas Cannasse's haXe compiler and programming language (which is rather simple to learn) with a set of graphical primitives and an event model, enabling a new style of development where components written for one platform will run on the others unchanged. Web 3.0 – here we come. Daniel will try to introduce you to the potential of xinf, outline his latest plan for world domination, and bribe you with fame and glory if you want to start help developing xinf.
More info: http://iterative.org/
//
//
Presentation: sonicSQUIRREL
Artist: Marc Widmer (Swiss)
sonicSQUIRREL.net is a platform and distribution channel for netlabels. Its aim is to promote free music and help artists and
netlabels make their work easily available for a wider audience. sonicSQUIRREL.net is not only about providing music, but also about giving background information and sensitizing people for issues like copyleft/right, drm and netaudio. They were thinking about alternative rating systems but they finally thought that any kind of a rating system does transport wrong messages. You can use sonicSQUIRREL.net to provide information about your label on several levels. You can link your page and post a short description on sonicSQUIRREL.net. Wikipedia about the sonicsquirrel: "One well-known trait of some species of squirrel is the gathering and storing of free music. These squirrels are scatter-hoarders, i.e. they will gather any kind of sounds and store them in an accessible and open hiding place, usually by uploading them on a web server. The sonicsquirrel is a social animal and likes to share its gathered treasures with everybody."
More: www.sonicsquirrel.net
//
//
Bob Miloševič (Serbia) will present his noise audio-visual performance. The sound is generated only from feedback and the video signal is created from "stolen" satellite recordings and various distortions. The act is a typical example of glitch art that recycles drops, bugs, scrambles, pixels and noises.
His VJ act is designed more in clubbing manner therefore the flamboyant video is created from feedback on videomixer. Music is created by Serbian musician named Woo that manipulates the electric guitar by the means of mobile phones and remote contolers.
//
//
Performance: Nova Viator, audiovisual performance
Artist: Luka Prinčič
Venue: Club K4
Usually known as broken beat DJ in these venues (Cyberpipe/Club K4), Luka Prinčič will switch on glitchy-noise and droned exploration of sound textures, mostly based on granular synthesis, but maybe also on algorithmic compositing of rhythms and melodies (currently something very secret in formation). It will also be possible to take a peek at live application of new modular video toolkit for Pure Data on Linux "Kinoko". Content-wise: creation of free, autonomous, and independent sonic and visual worlds that critically and creatively reflect present time and its media saturated state, which is cruical for any possible continuation and socio-individual change of status quo.
Web: http://viator.si
//
//
Instalation: Decoupage
Author: Boštjan Špetič (Slovenia)
Venue: Gospodarsko razstavišče
Decoupage is a computer program, an interactive subversive tool used for research of the structures of modern media and their
influence on our perception of the world. A visitor chats with the computer and a film is created from their dialogue in which the lines from the dialogue are changed with similar sentences from famous films and TV series. In the first part the visitor is surprised by the computer's unexpected intelligence and the unpredictability of its answers, allowed by the vast range of movie dialogues from where the computer takes its "knowledge". The film piece created through the dialogue cannot be predicted and is always different. It is usually visually incoherent and reminds us of Dadaistic collages or film trailers. It does not give us any pleasure when watched; it needs the viewer's mental activity, the understanding of the sense of the sentences that he created during the dialogue in the non-homogenised visual structure. In this way the media based on the unity of picture and sound is fractured to its basic parts (shots) and it forces us to think about the way we accept this media.
Project homepage: Decoupage
//
//
Performance: texture dept. (electric audio-visual transmittion)
Artist: Mould 2=o
Tandem Mould 2=o deals with electricwooden noisy droning interpolations of digital/analogue electronic preparations and weaving of grinding sound time-structures aided by crossrouted signals, coated sampled sounds, fake tone-memories and oscilation crashes. The sound vaguely resembles mountain hut feedback riots with momentary intrusions from rusted circuits' defragmented fairytales. Inspite the inhereted sterility of the medium their improvised etheric meteorological sonic sculptures contain a good measure of organic torque as well as undergrowth. Cirrusses, stratuses and cumuluses will be weaved this time in the -texture incarnation, accompanied by purposeful tapestries.
Pri_Poženel – hardware[spk], Pri_Bončina – software[spk/proj]
Web: http://mould2o.blogspot.com
//
//
Exhibition: V-Pong
Artist: Slavko Glamočanin (Slovenia)
Interactive installation V-Pong is an example of post avant-garde esthetics. The artist explores human-machine interaction by means of modern interfaces. Virtual becomes real. And real becomes seriously fun!
Web: www.glamocanin.net
//
//
//